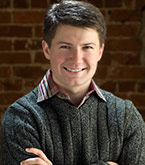 Cameron Johnson started his first business at the tender age of nine. By age 12, his company was selling Beanie Babies™ over the Internet and he netted $50,000 that year. At the age of 15, he became an advisory board member of a Tokyo-based company and published his autobiography, 15-Year Old CEO, in Japanese which became a bestseller in Japan.
By age 23, Cameron had founded and sold more than a dozen successful businesses and had been featured in more than 250 media outlets worldwide including Newsweek, BusinessWeek, the New York Times, USA Today, The Oprah Winfrey Show, CNBC, ABC and MSNBC. He's served as a consultant to several Fortune 500 companies and is a frequent speaker to a wide-range of audiences including corporate audiences, entrepreneurial boot camps and even high schools and colleges.
In 2007, his book on entrepreneurship, You Call the Shots, was released by Simon & Schuster. It was an instant bestseller in both the United States and Taiwan.
Currently, Cameron is the president of Magic City Ford Lincoln – a 4th generation family business based in Roanoke, Virginia.