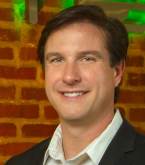 Chris is a 1999 graduate of Virginia Military Institute where he majored in Business Economics.  After graduation, he moved to the Washington, DC area and spent several years working as a Business Analyst for a defense contractor and a Vendor Relations Specialist for one of the largest cell phone service providers in the country.  Chris returned to his hometown of Roanoke, Virginia in 2005 after the birth of his first daughter to be closer to family.  He worked for the City of Roanoke as an Economic Development Specialist, fostering growth and forging relationships with businesses operating within the city. 
Later that year, Chris ran into an old friend from VMI, Patrick Henderson.  A year later, they started Protos Security, a nationwide security management company providing service to major retailers throughout the country.  Over the last ten years, Protos Security has grown from a small business that started in a basement with two employees to a company grossing over $30 million a year in revenue and employing 30+ people. 
In 2013, Chris and Patrick launched a second business, Securitime, LLC, a SAAS company offering unique full-cycle management tools for the administration of large security guard programs.  Innovation is what differentiates Protos Security and Securitime from other security providers, and this is what drives Chris and Patrick to continue improving service to their clients and to redefine the security industry as a whole. 
Chris' first passion is for his wife of sixteen years and his three beautiful daughters.  In his spare time, Chris enjoys water sports, fitness, reading, traveling, exploring new technologies, and spending time with the family.