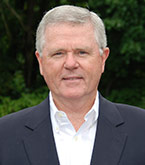 Joe Tatum is a business advisor and entrepreneur with over a 15-year background in organizing investors, co-founding and operating startup companies. He was managing director of ADMMicro, Inc., an energy management/building automation startup which he helped scale to a national and later to an international basis before negotiating a successful sale. He is presently CEO of SureFoot, LLC business advisory services, founder of TradeWinds Capital, co-founder of Silverback Innovations, Silverback Advanced Motor Monitoring and Silverback Investments.
The companies co-founded by Joe range from areas of capital investment, energy management, hospitality, communications, site management, research and development as well as his latest venture becoming a business advisor and consultant. Prior to founding TradeWinds Capital as well as the other entities, Joe had 20 years of senior level commercial banking experience.
Joe has served on a number of advisory boards, Bluefield College Board of Trustees, Executive Committee, Chair Institutional Advancement Committee, Chair of Bluefield College Endowment Committee and Chair Southwest Virginia Robert Morris Associates. Joe's interests outside of his family and church include building classic muscle cars and visiting with great friends.