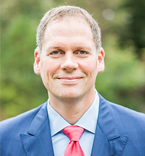 John is a persistent deal maker, primarily focused on the residential and commercial real estate markets in Roanoke and Charlotte, NC. Over the past ten years, he has closed over 700 transactions. John has also started and developed multiple companies that have had integral partnerships with his core company, Star City Investments.
Because he recognizes that he would not be where he is today without the mentoring he received from successful investors and business leaders over the years, John is passionate about helping the next generation of entrepreneurs. He enjoys meeting with them one-on-one to help them reach the next level not just in their business, but with their personal life as well.
John is married to the love of his life Krista, they enjoy raising their two boys Gabe and Michael, traveling, and serving in their community, mostly through Elevation Church and Straight Street. John also enjoys reading and he loves baseball.