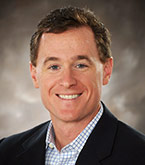 Kevin Bloomfield co-founded and previously served as President & CEO of NetVentures Corporation (NVC). His software company built a fast-growing, disruptive cloud-based Operations & Fund Accounting platform for progressive non-profit organizations. Headquartered in Roanoke, VA, the company's flagship platform was used by over 400 facilities and handled over $2 billion dollars of financial transactions. In June 2014, after many years of fiercely battling with its largest competitor, NVC agreed to be acquired by Daxko (a Pamlico Capital portfolio company).
After his successful exit, Kevin became the managing partner of Bloomfield Partners, LLC, a boutique family investment firm.
Kevin has been often recognized as a regional technology leader. He has been named both a Rising Star and Entrepreneur of the Year, he was recognized by the Center For Innovative Technology (CIT) Gap Fund as one of fifty entrepreneurs who are most likely to build Virginia's next generation technology companies, he was listed in the Blue Ridge Business Journal's 20 under 40 directory, and he has been nominated for numerous Chamber of Commerce and other civic awards.
Kevin is actively involved in the greater Roanoke/Blacksburg region:
Co-Chair Roanoke Blacksburg Innovation Network
The RBIN is an important regional initiative which seeks to create new companies, jobs and wealth in the Roanoke and New River Valleys of Virginia.
Board member Roanoke Blacksburg Technology Council
The RBTC exists to connect and unite the region's technology community, grow opportunities for innovation and entrepreneurial development, and lead the way in the growth of a strong technology workforce.
Past Board member Roanoke Small Business Development Center
Elder at Second Presbyterian Church in Roanoke  
Additionally, Kevin enjoys helping fellow entrepreneurs navigate toward success. He coaches many local technology entrepreneurs, he has participated in various Start-Up Weekends, and he often speaks to aspiring entrepreneurs at nearby universities.