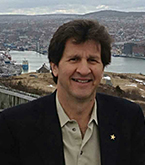 Ramon is a Mechanical Engineer that early on in his career realized that nothing happens until a sale is made (never worked for a non-profit although he was on a missile design team for the U.S. Army).Today he is a self-directed investor with deep industry knowledge, understands most business processes, can decipher a Balance Sheet or Income Statement and those pesky little notes in earnings reports.
Ramon is fluent in Spanish (born and raised in Puerto Rico) and fala un poco Português. His passport is full of stamps from all over the world and is member of Delta's one million mile club. His hard work, leadership and love for finding the best solution for customers made him successful in a large conglomerate (ok General Electric) and couple of small privately owned software companies. His success led to an early retirement and more time with his family in a wonderful part of the world originally known as Big Lick, VA.
He is happily married to Kathy Perdue, has two sons and enjoys fishing, running, cooking and a good glass of red wine.