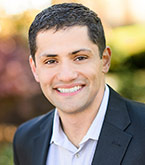 The Honorable Sam Rasoul represents the Eleventh District in the General Assembly House of Delegates. Since being elected in January, he has placed a priority on improving access to quality education and healthcare.
The son of immigrants, Sam was raised in the Roanoke Valley of Virginia. After receiving a bachelor's degree in business administration from Roanoke College and master's degree in international business from Hawaii Pacific University, he became a small business owner and later the chief financial officer and chief operating officer of a non-profit healthcare firm. Sam channeled his passion for healthcare reform into finding more compassionate ways to care for our seniors and helping with maternal and child health in East Africa.
Aside from working hard to best serve the people he represents in the Roanoke Valley, Sam currently has his own small business that helps organizations become more successful through developing better business plans and through investing in their employees.