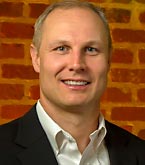 Patrick Henderson is a Roanoke native and graduated of the Virginia Military Institute with a BS degree in Civil Engineering. After leaving VMI, Patrick started his career with a legacy company in Roanoke, Lanford Brothers Company, Inc. At age 29, Patrick and his business partner Chris Copenhaver started Protos Security, a nationwide security guard management company specializing in providing business intelligence to the security guard industry. Protos provides uniformity in time-keeping, incident reporting, and data analytics; ultimately providing their clients a "window" into the performance of their guard program. Protos manages security guard programs for some of the biggest national retailers in the world such as Advance Auto Parts, Food Lion, Walgreens, Lowe's, Nike, and Dollar General.
In 2013 Patrick and Chris were approached by Walmart for their interest in their Software as a Service (SaaS) product and entered into a contract with Walmart Stores Inc. Securitime, LLC was born out of this independent product requirement, which has matured to a national roll-out to provide uniformity in measuring Walmart's guard vendor performance and reporting.
In 2014, Protos Security was awarded the Small Business of the Year through the Roanoke Regional Chamber of Commerce in the "Business-to-Business" category. That same year, Protos was also awarded Sears Holdings Vendor Partner of the Year award.
Patrick and Chris have the spirit and drive to create great business ventures and products and in 2015 they launched Ignite Innovations, LLC as an incubator to bring products to market.
Patrick has a unique outlook in life after nearly dodging a bullet in 2002 being diagnosed with Burkitt's Lymphoma, one of the most lethal cancers. This "near miss" experience only fueled Patrick's faith, drive and passion as a husband, father, and entrepreneur.